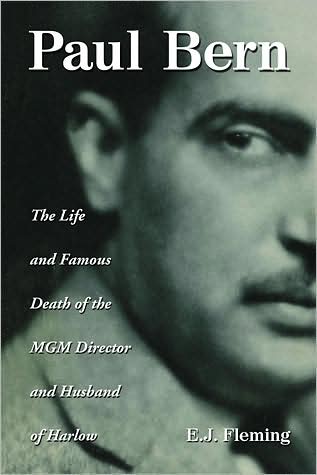 Paul Bern had an excellent reputation in Hollywood. He was a writer, respected producer and director who worked closely with Irving Thalberg. Considered "Hollywood's Father Confessor", he was a very supportive friend to those in need. Yet when he needed them the most, they turned their backs on him and betrayed him. In his new book,
Paul Bern: The Life and Famous Death of the MGM Director and Husband of Harlow
, author E.J. Fleming takes a look at the tragic death of Bern, who died under mysterious circumstances at the age of 42.
Paul Bern (birth name Paul Levy) was born on December 3, 1889 in Wandsbek, Germany near the North Sea. His father, Julius, ran a small candy store, while his mother, Henriette, took care of Paul and his five siblings. In 1898, when Paul was eight, his family immigrated to America. Julius opened a small candy store on Manhattan's East Side. The family adapted to their new country and prospered, but in 1907, Julius came down with amyotrophic lateral sclerosis (later known as ALS or Lou Gehrig's disease). There was no treatment available to him, and on October 10, 1907, he passed away.
Paul, his mother and brother Henry went to live with his sister Friederike and her husband in the Bronx. It was there that Paul learned about the American Academy of the Dramatic Arts. He managed to pass his audition, although he had little theatrical experience. He changed his last name to Bern during his two years there, graduated in 1911, and stayed at the Academy as a stage manager.
Dorothy Millette arrived at the Academy to audition after Paul's graduation, but it is likely that they met there. Fleming states that there are no records of her graduating or even appearing in any performances. Very little is known about her, Fleming points out, and what is known about her life before Paul is hard to verify. As Paul's acting career took off, Dorothy traveled with him. He eventually went to work for a motion picture company, Conness-Till, before going to work for Joseph Schenck as a manager of the Yorkville Theater, which was one of the theaters controlled by Marcus Loew and Adolph Zukor.

Fleming traces Paul's burgeoning career from the Yorkville Theater to United before he ended up at Goldwyn.

By this time, Paul and Dorothy had been together long enough that in the eyes of the laws of New York, they were married, even though no legal documents have surfaced stating they actually got married. But Dorothy had begun to display symptoms of a mental illness, and in August 1920, Paul had her committed a sanitarium. After his mother's death two months later, Paul moved to Culver City, California.

Fleming follows Paul's Hollywood career and his relationships with the people he came into contact with on a daily basis: Irving Thalberg, who considered Paul a close friend and his right hand man; comedienne Mabel Normand, who rose to the great heights of stardom only to fall and die at the young age of 34; the beautiful Barbara La Marr, who died broke but not forgotten by her fans at the age of 29; and a stunningly beautiful 18-year-old starlet named Jean Harlow.

People were a bit surprised at the unlikely pairing of the young Harlow and the middle-aged Paul. Whatever connections the two of them made with each other, it was enough for them to get married on July 5, 1932. They spent the next two months, splitting their time between work and home, content and happy.

No one knows for sure what happened on that fateful night of September 5, 1932. Fleming's research points to many discrepancies in the witnesses' statements, especially from Paul's own employees. Considering that Harlow's star was on the rise at MGM, Louis B. Mayer worked quickly to protect her, probably believing that she had killed him. Whatever evidence was in the room that day was lost.

What really happened to Paul Bern? Was he murdered? Did he commit suicide? Despite all of his exhaustive research, Fleming's allegations that it was his common-law wife, Dorothy Millette, killed him are still just allegations. He makes a strong case for this scenario, but without definitive proof, the death of Paul Bern will continue to be an unsolved Hollywood mystery.

You can order

Paul Bern: The Life and Famous Death of the MGM Director and Husband of Harlow

from McFarland Publishing by visiting their website at www.mcfarlandpub.com or by calling their order line toll-free at 1-800-253-2187. You can also purchase the book through Amazon.com using the link below.